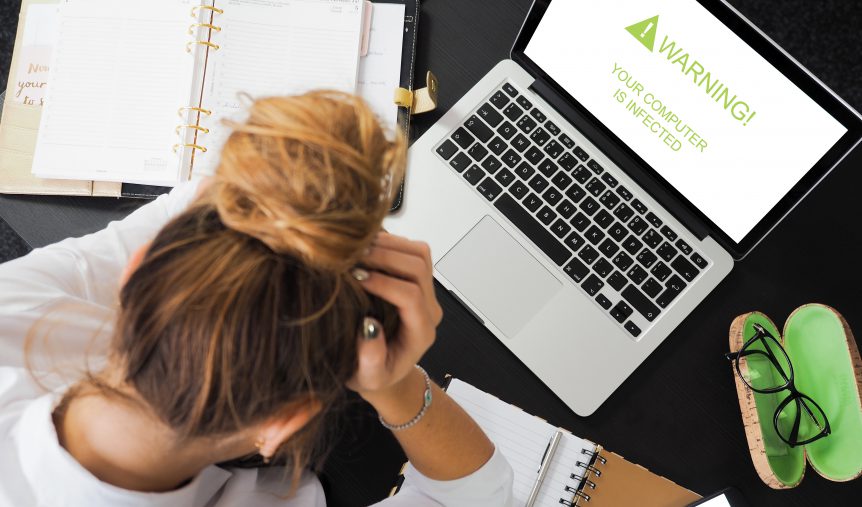 Avoiding Tech Support Scams
Tech support scams are everywhere, and they don't show any signs of slowing down. Cybercriminals are impersonating the employees of reputable companies using the telephone or popup ads to trick users into giving access to their computers or financial information. With this information, the cybercriminal may infect or lock you out of your PC, or try to steal money from your bank accounts.
How does it start?
Most frequently, we see these scams initiated in one of two ways:
Using popup windows alerting you to a nonexistent virus infection. The scammer will insist that you call their phone number so that one of their "technicians" can help remove the infection.
By calling you and saying that they are an employee of Microsoft, Apple, or Google. The scammer will usually say that they know that your computer is running slowly, or that your computer has been sending out viruses.
And after that?
After getting your attention, you will be instructed to assist the scammer in gaining a remote connection to your computer. With a remote connection the scammer has full access to your computer, as if they were sitting in front of it.
If your conversation continues, the scammer will begin to display information on your computer in an attempt to convince you that your computer is riddled with virus infections or other system errors. Usually the information that is brought up is harmless and simply blown out of proportion to justify their reason for contacting you.
Now the scammer will ask for money to provide you with a remedy for the issues that they have convinced you that your computer has. If they aren't happy with how the conversation is going, they have the full ability to infect your computer with a virus, or even lock you out.
How do I protect myself?
There are three key things to keep in mind:
Never respond to unsolicited tech support, whether it is on the internet or by phone. Microsoft, Apple, and Google will never contact you regarding a virus infection or computer problems.
Do not allow strangers to remotely access your computer. Remember, with remote access, the scammer has full control over your computer.
Get a second opinion from somebody else if you're not sure. Reboot Computers is happy to provide a second opinion regarding any strange popups or phone calls regarding your computer.
I let a remote support scammer access my computer, help!
If you gave the scammer any financial information, such as credit card numbers or bank account information, you should contact your financial institution and explain the situation.
If you think you may have let a remote support scammer access your computer, the first thing you should do is turn it off. Next, the computer should be brought to a professional so that the scammer's remote access software can be removed, and so that your computer can have a virus scan run on it.
We provide free computer diagnostics at our office located at 615B Long Hill Road, Groton, CT 06340. Our free diagnostics allow for us to assess any damage the remote support scammer may have caused to your computer following remote access. Call us or stop in today!